The City is committed to providing clean and safe drinking water to all residents and businesses. A strict water quality testing process is used to ensure industry standards set by the Province of Ontario are met. Each year, the City takes about 4,000 water samples for testing.
Continuous maintenance of the City's water infrastructure ensures water continues to flow now and for generations to come. Samples are also analyzed for physical, chemical and inorganic parameters, and are representative of the City's entire distribution system. They are collected from across the city.
A Drinking Water Quality Management Systems Operational Plan (PDF) has been developed to ensure drinking water is safe. This plan is mandated and enforced by the Ministry of the Environment, Conservation and Parks Regulation 170/03, Drinking Water Systems.
Water Sampling Stations across Vaughan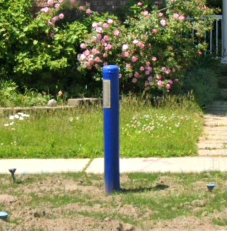 Have you seen a Water Sampling Station in your neighbourhood? The City of Vaughan is committed to continue providing residents with high-quality drinking water. As part of this commitment and to improve access to water testing, the City installed 145 new water sampling stations across the City's water distribution network on City-owned residential and commercial properties. Learn more about these Water Sampling Stations.
Door-to-door-sales
Vaughan's drinking water is safe and meets all regulatory requirements set by the Province of Ontario. Be aware of re door-to-door sales activity by representatives promoting water treatment products. Some of these sales representatives use aggressive and misleading tactics and may suggest that they represent the City of Vaughan. These products and associated companies are not endorsed by the City of Vaughan. Please confirm with them who they represent. City staff will have identification and drive a City vehicle.
If you would like more information, please contact our Environmental Services department at 905-832-2281 or visit the Ministry of Consumer Services (MCS).
To make a formal complaint regarding an encounter you may have had, please contact the Consumer Services Bureau at 416-326-8800 or (toll free) 1-800-889-9768. If you feel threatened or concerned for your safety, call 911.
Water quality FAQs
Find answers to commonly asked water quality questions below.
Answer

Water is sourced from Lake Ontario.
Water is treated by the City of Toronto and Peel Region.
York Region supplies the clean, treated water to the City of Vaughan.

Answer

Water "hardness" describes the amount of naturally occurring calcium and magnesium carbonate dissolved in water.
Vaughan's drinking water hardness is currently measured at 125 milligrams per litre or 7.26 grains per gallon.
Hard water is not a health concern, but it may cause scale deposits on toilets and appliances.

Answer

Cloudy water is a result of air bubbles trapped in the water.
As you run the tap, the air bubbles will dissolve, and the water will clear.

Answer

A foul or sewer-like odour is most likely the result of hair, dirt and food waste in your drain.
Confirm by filling a glass with water from the affected tap and take the glass into another room.
If the water in the glass has no odour, then the odour is coming from the drain.
Run one to two litres of water down each drain in your home and an additional one to two litres down the floor drain in the basement.
A musty or earthy smell during the summer or fall is caused by plants or algae in Lake Ontario.

Answer

Discoloured water may happen when construction activities are undertaken in the area or a watermain or fire hydrant is flushed.
Flushing disturbs and distributes existing scale and accumulated sediment buildup.
Run a cold tap until the water clears.

Answer

It is caused by a naturally occurring bacteria called Serratia Marcescens, which is not harmful to your health.
It is often appears during and after new construction or remodeling as dirt and dust is stirred up.
It can be removed using a chlorine or bleach-based cleaning solution.
Water quality reports:
York Region's Water for Tomorrow program offers education and programs for residents as well as rebates on selected water-saving appliances for businesses.
How does water get to homes and businesses?
​What you pay for

The City's water system is vast and complex. It takes hundreds of kilometres of pipes, thousands of watts of electricity and hard work to get water across the city.

​Where does water come from?

In York Region, about 85 per cent of the water comes from Lake Ontario, three per cent from Lake Simcoe and 12 per cent from groundwater: It's treated before it's delivered to customers.

​Where water goes?

When water comes out of the tap, it's clean and fresh. But how does it get to all homes and offices 24 hours a day? And where does it go once a toilet is flushed?

​How is water treated?

How exactly does York Region treat water it to ensure it's safe to drink? The water treatment process has three stages - screening, filtration and disinfection.