Railways, Roads and Transportation
There were many issues with financing and constructing a railway line through Vaughan in the early 1800s. In an area that was partly settled and densely covered in forestry, conditions were too severe for railway development until the middle of the 19th century.
An incentive came in 1849 when the Canadian government passed the Guarantee Act for railways. Under the Act, railways longer than 120 kilometres were eligible to receive a grant that guaranteed interest of up to six per cent on half the cost of construction once half the railway had been completed.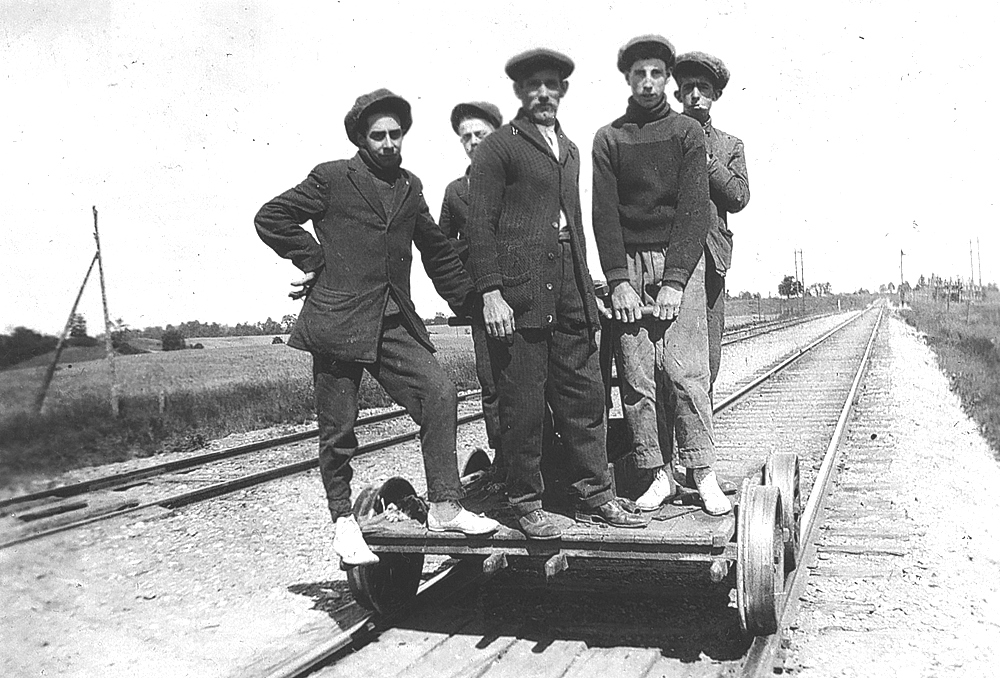 The Ontario Simcoe and Huron Railway Co., later known as the Northern Railway Co., built the earliest railway through Vaughan and the first in Ontario. It was completed in 1853 and ran from Toronto to Maple and north to Lake Simcoe. In 1856, the line was completed to Collingwood, a town located on the shorelines of Georgian Bay. In 1888, Northern Railway joined with the Grand Trunk Railway Co. Eventually, the Grand Trunk became part of the Canadian National Railway in 1923 and today is, in part, a GO Transit route for commuters to Toronto. This line now runs from Union Station in Toronto to Maple and beyond, serving commuters living in the Greater Toronto Area.
In 1871, the Toronto, Grey and Bruce Railway was built through Woodbridge and Kleinburg to Orangeville. The Canadian Pacific Railway acquired the Toronto, Grey and Bruce Railway in 1883. Today, the line is part of the Canadian Pacific main line that runs from Toronto to the transcontinental connection in North Bay. In 1991, the Canadian Pacific Railway Intermodel Terminal located between Rutherford Road and Major Mackenzie Drive, and between Huntington Road and Highway 50, was connected to this historic railway line. The Intermodel Terminal is a state-of-the-art containerized goods facility. Containers holding goods may be transported by rail to this site and then loaded onto transport trucks for transfer to locations accessible through nearby highway systems.
Railway lines through rural Ontario negatively affected smaller businesses in the 19th century. It was initially thought the rail service would help local industries prosper. The railway helped communities that had railway stops, however, communities that were bypassed experienced significant economic downturns. Larger firms in major cities were now able to ship products over a large area and smaller local businesses suffered as a result. Additionally, people were now able to travel great distances to purchase basic supplies and goods that were not available locally.
In 1896, the Metropolitan Street Railway Co. constructed electric interurban railways throughout southern Ontario. One line operated along Yonge Street. By 1907, this railway extended to Lake Simcoe and was a popular commuter route for cottagers escaping from Toronto. It was taken over by the Toronto and York Radial Railway and then the Toronto Transit Commission. The line was eventually abandoned in 1948.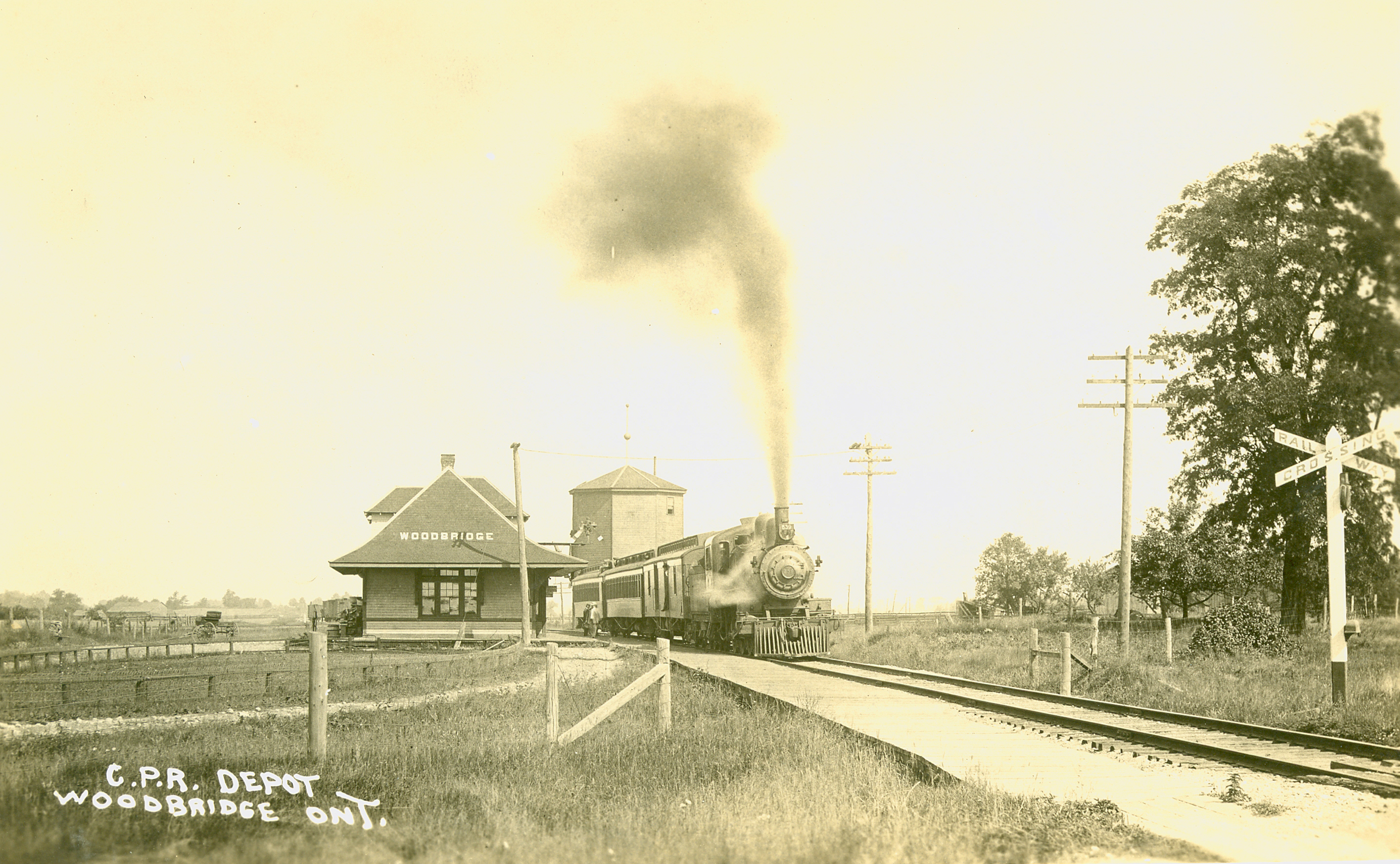 By 1914, the Toronto Suburban Electric Railway was completed and extended to Woodbridge, taking students attending Weston High and Vocational School to and from Toronto. This passenger car was discontinued in 1925.
In 1956, a massive new railway connection was completed by the Canadian National Railway extending from Pickering in the east to approximately Weston Road in Vaughan. At the time, an extensive freight yard was constructed in Concord (at Keele Street and Highway 7) – this line helped cargo trains avoid a heavily congested route through Toronto.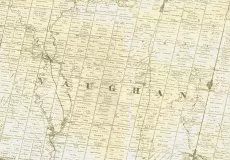 Early Roads
Upper Canada's first Lieutenant-Governor, John Graves Simcoe, placed a high value on roads. He realized their military value as well as their contribution to rapid and effective development and settlement. It was, however, a significant task to create a roadway system in an area that was covered with dense forests and experienced severe winter conditions for half the year.
In 1792, when Simcoe arrived in York (Toronto) the only trail northward was the Carrying Place Trail, a portage route running 45 kilometres from Lake Ontario to Lake Simcoe along the Humber and Holland River systems. The trail, in use for trade by 1500, was necessary as the low waters of the Humber River were often hard to navigate. The river was also frozen in the winter, and the steep banks offered little defence against enemy attack.
In 1793, Simcoe followed the portage and determined it was an unsuitable route to Georgian Bay. He chose Yonge Street as the best new route for travel from Toronto to Lake Simcoe. Augustus Jones, a United Empire Loyalist from New York State, was charged with the surveying and clearing of Yonge Street. Jones was accompanied by a party of Queen's Rangers. They began the survey at Holland Landing and worked their way south to York. On Feb. 20, 1796, Yonge Street was opened from York to Holland Landing.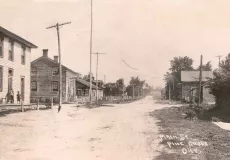 Toll Roads
Early settlers found few accessible transportation routes. To clear and create a roadway system, these settlers were required to clear and maintain all roadways adjacent to their assigned property as a condition of their land grants.
In time, logs or planks were placed on the road to protect horses and carriages from the mud and rocky road conditions. In the early part of the 19th century, it was easier to travel in the winter when horse-drawn sleighs could easily glide through snow and ice conditions.
To improve road and transportation conditions in a relatively rural and unsettled province, governing officials encouraged road companies to build roadway systems. To finance construction, road companies would sell company shares to raise funds for these projects. In return, toll charges for use of these roads would help provide dividends to company investors and pay for upkeep and repair.
The Vaughan Road Co. was formed in 1850, establishing the roadway route known today as Islington Avenue and becoming Highway 27 north of Kleinburg. Four toll-gates were found along this route:
Present-day Albion Road and Finch Avenue area
Woodbridge Avenue and Clarence Street
Near Islington Avenue and Clarence Street
At the junction of Islington Avenue and Highway 27

The introduction of the railway system in the middle of the 19th century created an easier mode of transportation and the use of toll roads rapidly declined.
By the 1880s, the Vaughan Plank Road was damaged and road maintenance was practically abandoned.
Looking north on Vaughan Plank Road at Pine Grove, 1870
In 1890, a revolt broke out against the continuation of the toll road in Vaughan. More than 60 young farmers from Woodbridge and Kleinburg gathered by night to destroy the toll-bar at Islington Avenue and Clarence Street. The same night, they removed the toll-bar at Woodbridge Avenue and Clarence Street. At the Woodbridge toll, Sandy McIntosh, the toll-keeper, fired his shotgun at the young men, injuring several. This revolt and several like it across the country forced the removal of all toll roads in favour of public roadways administered by the municipal governments.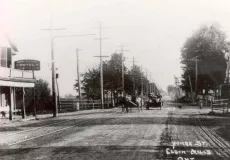 Yonge Street
In the 19th century, Yonge Street was the most travelled road in the province. Stagecoaches would start in Toronto and go as far north as Holland Landing. Yonge Street had many inns and hotels to accommodate the travelling passengers. A trip from Richmond Hill to Toronto would take 3.5 hours and cost 75 cents.
Elgin Mills and Yonge Street (looking south), ca.1900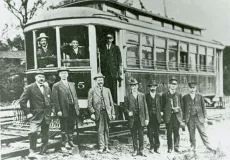 Metropolitan Railway Railcar
The Metropolitan Railway Railcar line was built in 1896 along Yonge Street. It provided a new method of transportation for commuters, and carried passengers and goods, such as milk and other farm products, to Toronto.
Toronto Suburban Railway Trolley Car with conductor and passengers in Woodbridge, ca. 1900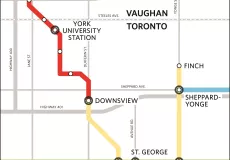 Toronto Transit Commission Subway Extention in Vaughan
In collaboration with the Regional Municipality of York, the City of Toronto, Metrolinx and the Toronto Transit Commission (TTC), the City of Vaughan further expanded its transportaiton network in December of 2017 by opening three subway stations in the City:
Vaughan Metropolitan Centre Station, located at 3150 Highway 7
Highway 407 Station, located at 7332 Jane Street
Pioneer Village Station, located at 2800 Steeles Avenue
The 8.6 kilometre expansion to the Line 1 Yonge-University Extension was the first TTC rapid transit line to cross the City of Toronto's boundary. The Vaughan Metropolitan Centre also serves as a connection to the rapidway bus line which runs across Highway 7 in Vaughan.
2017 Subway Map showing Vaughan extension