Like many early Ontario communities, Woodbridge was developed around a waterway system; namely the Humber River. This waterway provided a ready-made transportation system and power source necessary for economic growth. As a result, it became the commercial centre of an excellent farming area.
Origins and early history
Woodbridge had its origins with the British Crown granting the west half of Lots 6 and 7 and Concession 7 of Vaughan Township to Jacob Philips and Hugh Cameron in 1802. Woodbridge proper, however, did not begin to take the form of a settlement or village until the arrival of Rowland Burr in 1837.
Burr is credited with being the founder of Woodbridge. He owned a flour mill, sawmill and textile mill forming a settlement called Burwick. By the 1840s, Burr's enterprises had grown into the most successful businesses in the area.
As the population increased, the government was petitioned to establish a post office. To avoid confusion with another settlement in Canada west with the same name, Burwick was renamed to Woodbridge in 1855.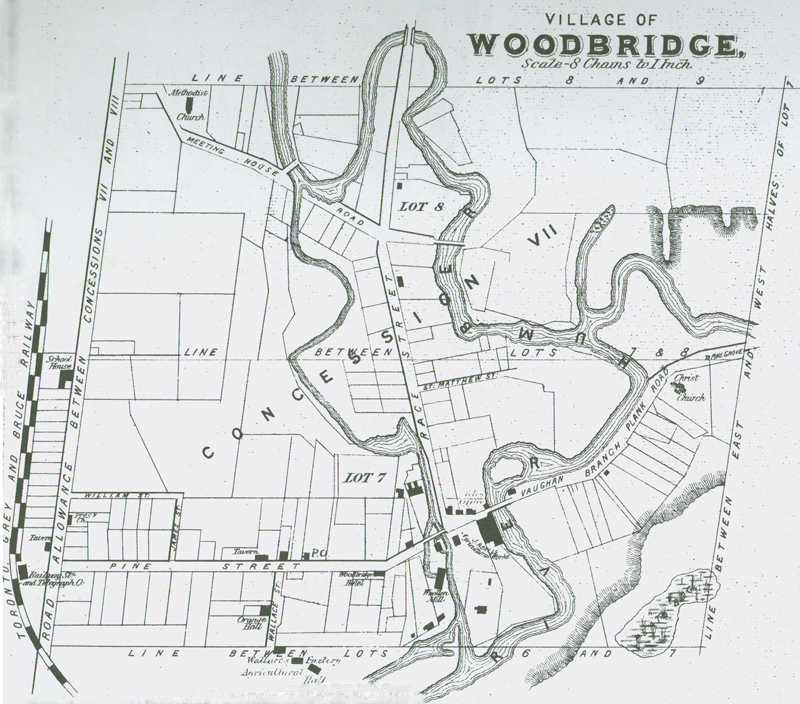 Development
During the following decade, Woodbridge experienced significant growth because of an establishment named Abell Agricultural Works.
Beginning with 20 employees in 1862, John Abell's factory employed more than 200 men by 1874. His plant specialized in the production of steam-powered agriculture equipment. In 1880, his Triumph tractor and steam engine received several awards at the Toronto Industrial Exhibition.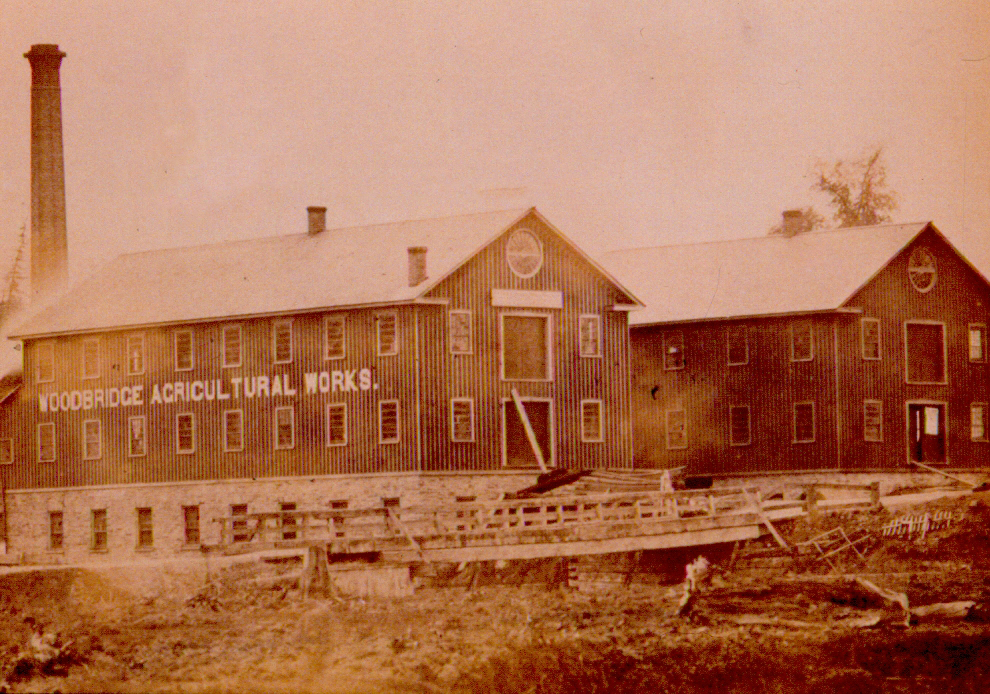 By 1880, a thriving community had developed around Woodbridge's varied businesses and included a library, post office, school, two churches, two hotels, general stores, a local newspaper and more. There was also a considerable range of professions and trades including a bricklayer, butcher, chemist, printer, publisher, watchmaker, physician and surgeon.
Local government arrives
By 1882, Woodbridge's population had exceeded 1,000 and it was formally incorporated as a municipality. A Reeve (Mayor) and five Councillors were elected, and a small salaried civic administration headed by the clerk-treasurer was appointed to deal with day-to-day affairs. 
The Woodbridge municipal government grew to encompass a large variety of functions. By the mid-20th century, it exercised control over:
fire protection
law enforcement
public works
recreation
welfare
Several boards came about by the 1950s, including:
Board of Health
Community Centre Board
Library Board
Planning Board
Public School Board
War Memorial Board
Woodbridge Hydro-Electric Commission
This system continued until 1971 when the Village of Woodbridge combined with Vaughan Township to form the Town of Vaughan.
Decline and rebirth
During the late 1800s, Woodbridge experienced severe economic decline because of the relocation of Abell Agricultural Works to Toronto. Despite the decline in population, the local economy experienced slow but sustained growth after the First World War.
Woodbridge's renewed growth was partly due to the development of new roads. Old toll-roads disappeared and the first country road system was introduced in 1911. Over time, the village's roads were paved and improved. In 1926, the Ontario government built a metal bridge over the Humber River and in 1930 the construction of Highway 7 began.
Woodbridge's growth and potential also grew in 1908 when the Canadian Pacific Railway was routed through the village. In 1914, there was also an extension of the Toronto Suburban Railway Company's Weston line to Woodbridge.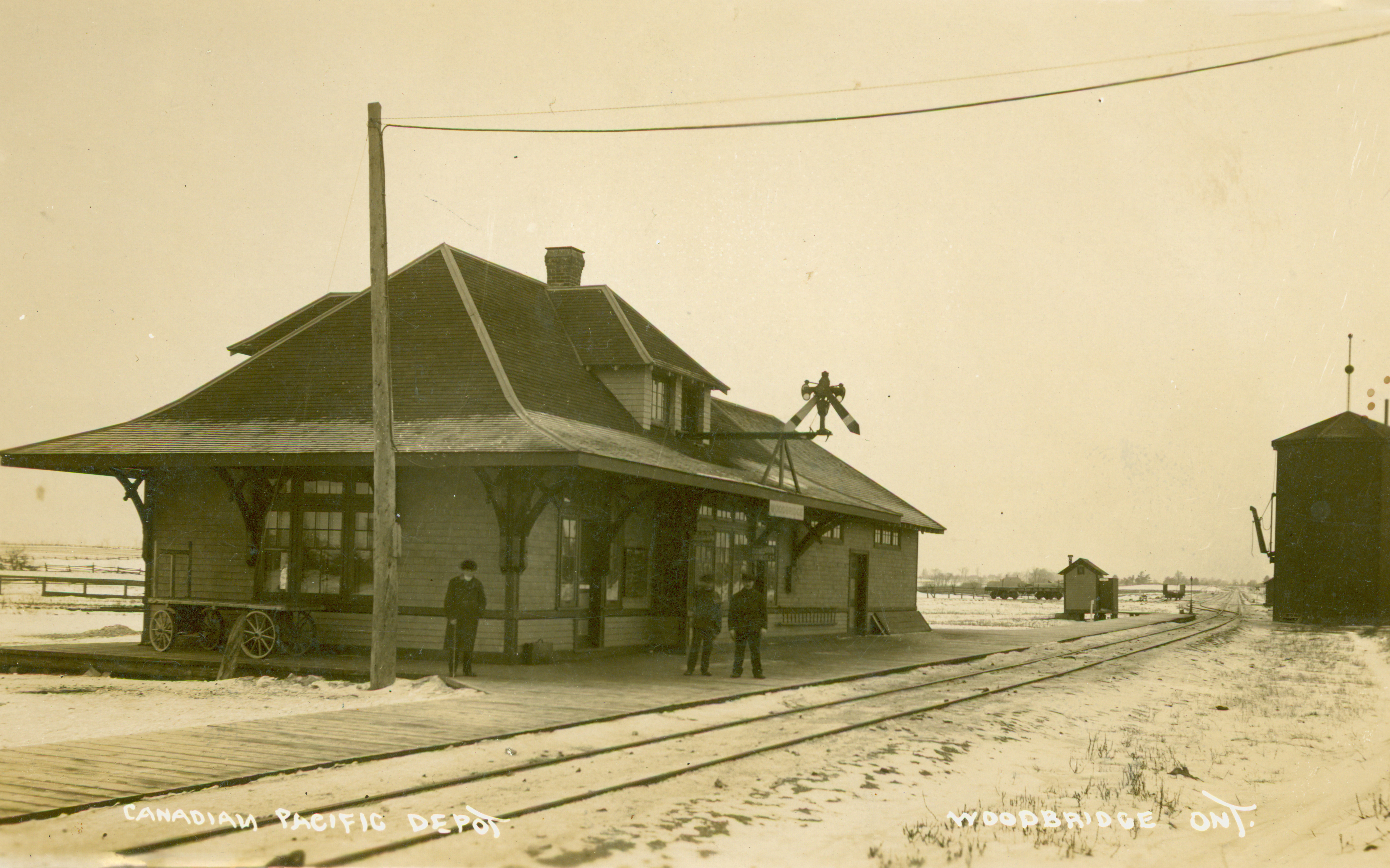 The increase in immigration experienced by Canada in the post-Second World War era also helped account for Woodbridge's growth. Between 1951 and 1956, a total of 10 subdivisions arose. From then, a trend of rapid growth continued.