The community of Thornhill is divided in half between the City of Markham and the City of Vaughan and runs along both the east and west sides of Yonge Street.
The growth and development of Thornhill is directly related to:
the development of Yonge Street as a transportation route
the Don River system running through the village
Thornhill's proximity to Toronto
Yonge Street
Yonge Street was first developed as a military road by the first Lieutenant-Governor of Upper Canada, John Graves Simcoe. In 1792, a guide showed Simcoe an aboriginal route connecting Lake Ontario to Lake Simcoe from York (Toronto). The trail was surveyed, and by 1793 William Berczy cleared the trail from Toronto to the present site of Thornhill. Later that year, soldiers were dispatched by Simcoe to finish the road to Holland Landing (Lake Simcoe).
Simcoe also announced a plan to attract settlers to Upper Canada (Ontario) in 1792. The plan offered settlers 80 hectares (200 acres) of land provided they complete these tasks within the first two years of ownership:
build a home
clear 10 metres of land across the front of the property for a road
clear and fence four hectares (10 acres) of grant land
By 1800, all the lots between what are now Steeles Avenue and Langstaff Road were granted to future settlers. Simcoe's policies helped populate and develop communities throughout Upper Canada.
Benjamin Thorne's mills
The years following the War of 1812 saw another wave of immigration take place. The end of the Napoleonic Wars meant significant social and economic change in Great Britain. This resulted in upper-class families and servicemen leaving Great Britain to start a new life in North America.
The arrival of Benjamin Thorne in 1820 was particularly important. Thorne set up a warehouse in York that dealt with the export of grain and import of iron. He then purchased the remains of a burnt down mill and renovated it into a gristmill. By 1830, he was operating a gristmill, sawmill and tannery. Thorne became a major influence in the economic life of the village. The small settlement became known as Thorne's Mills and then Thorne's Hill.
In 1828, Thorne and his brother-in-law, William Parson, petitioned for a post office. It was granted in 1829 and the village was officially called Thornhill, with Mr. Parson being its first postmaster. By 1830, Thornhill had a variety of services and industries including a distillery, millwright, several blacksmiths, harness makers, shopkeeper, tanner, weaver, sawmills and more.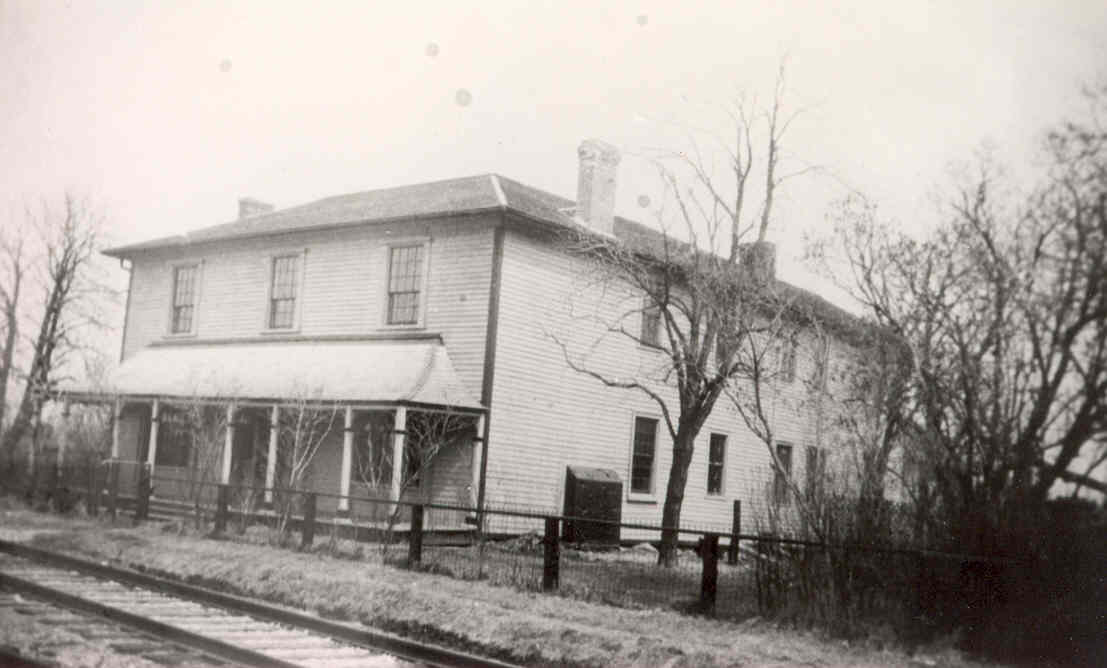 Growth and development
Between 1830 and 1848, Thornhill experienced constant growth. The business district developed on Yonge Street in the area between Centre Street and John Street. Stagecoaches (covered wagons) travelled between Holland Landing and York as Yonge Street's road conditions improved and many churches, which stand to this day, were built.
Agricultural farming thrived during this period as local farmers took advantage of new mechanical advances, such as reapers (machines that pick crops at harvest) and threshers (machines that separate grain). Millers also found a ready market for their products in the protected British market.

The village acquired further services and the original Crown lots were subdivided to provide for the needs of the new urban class. By 1848, Thornhill was the largest community on Yonge Street north of Toronto, having a population of approximately 700 people.
Thornhill had grown into a busy milling centre by the mid-1840s. However, the factors that fostered its growth, namely government policy, economics and technology, all evolved and changed around mid-century resulting in an extended period of inactivity. The biggest change was the British government's elimination of the Corn Laws in 1846, which ended lower import tariffs for Canadian grain into British markets.
Mill decline
As the need for mills declined, farmers and millers suffered. Thorne was left with no market and went bankrupt. In 1848, he committed suicide after selling his assets and paying off his creditors. This was the first of a long series of events that eroded the economic base of the village:
a decline in milling continued in the latter part of the 19th century as less lumber was required
agriculture was in a state of flux by the mid-1870s
farmers began engaging in mixed farming to protect themselves from fluctuating grain prices
Steam power
By the mid-19th century, steam had replaced waterpower as the main source of energy. Transportation was particularly affected as the railroad was being expanded. Communities wanted the tracks to run through their villages to take advantage of the benefits the trains would bring. Thornhill, however, was bypassed, losing potential growth as a result. By the end of the 19th century, Thornhill had become primarily a service centre for the surrounding farmland.
Railways and automobiles
In 1896, a new mode of transportation, the Metropolitan Radial Railway (bus-like cabins on rails) reached Thornhill, and brought commuters to and from Toronto. Before this railway, the only public transit to the city was a three-hour ride by stagecoach. The electric street railway was a significant improvement in both speed and convenience. For the first time, it was possible to live in Thornhill and work in Toronto. By the late 1920s, the automobile became a popular source of transportation for many people, further facilitating travel along Yonge Street.