It takes a lot of planning to create a budget for a city the size of Vaughan. Learn more about how it works!
What makes up the budget?
A municipality's budget is made up of two parts:
Operating – spent on running City facilities, programs and services
Capital – spent on projects that include building and repairing City infrastructure, such as roads and buildings
What funds the budget?
To fund the operating and capital budgets in Vaughan, annual revenues are generated. The main sources of revenue are property taxes, water and wastewater rates, stormwater charges, user fees and development charges.
Property taxes - The property tax bill is divided between the City of Vaughan, York Region and the York Region English and French school boards for education. Vaughan uses its portion of the property tax to pay for City programs and services.
User fees and service charges - These are paid by residents and businesses when accessing certain services, such as recreation programs and permits.
Development charges - These are paid by developers and are used to help fund capital projects, such as roads, pipes, libraries and fire halls.
Water and wastewater rates and stormwater charge - These are paid by residents and businesses for water related services to ensure the City can provide safe drinking water, collect wastewater effectively, manage stormwater to mitigate flooding and save for future infrastructure needs.
How do Vaughan's taxes compare to other GTA municipalities?
The City of Vaughan has one of the lowest tax rates in the GTA. Vaughan is focused on keeping tax rates low and maintaining service levels.
Image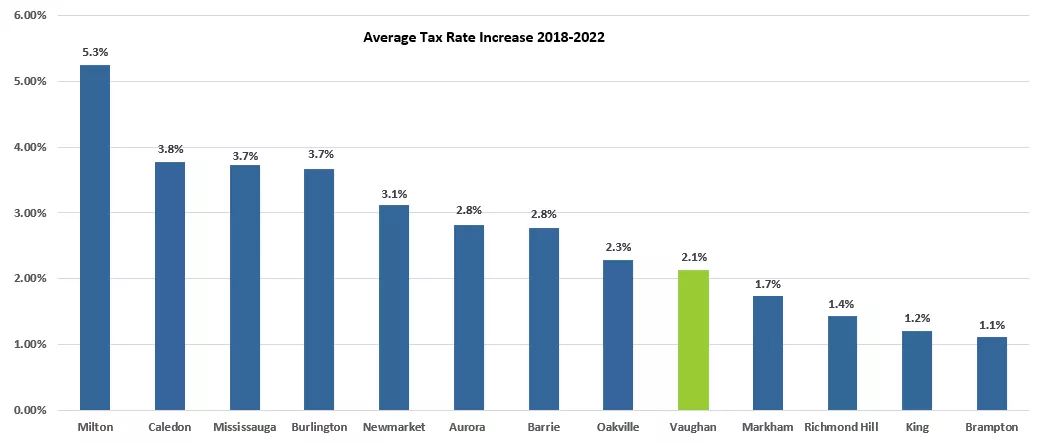 What is the Vaughan Hospital Precinct Development Levy?
The Vaughan Hospital Precinct Development Levy was implemented to support timely development of the hospital.

In 2009, the City approved an $80-million funding strategy to bring a hospital to Vaughan. The strategy included a dedicated, accountable and temporary Healthcare Centre Precinct Plan – Development Levy.

The City's contributions to the development of the hospital were fully paid in 2022. The financial plan spanned 13 years, which was significantly less than the initial 20-year recovery timeframe. The temporary levy was not part of the City's operations and was shown separately on property tax bills. These funds have gone directly to purchase the hospital precinct lands and prepare the site, which includes building sewers, roads and streetlights on the lands. For 2022, the levy was approximately $58 for the average home assessed at $950,000.