The history of Maple can be traced to its founding families: the Nobles and the Ruperts.
The Nobles settled around the present Major Mackenzie Drive and Keele Street intersection in the early half of the 19th century. In 1852, the town was named Noble's Corner after the first postmaster, Joseph Noble.
Later, Dr. Rupert, who lived in Maple, was such a respected member of the community that the town's name was changed to Rupertsville. The town's present name is said to originate from the numerous maple trees once found in the village along Keele Street.
Community growth
The first settlers in Maple during the latter part of the 18th century were German Lutherans from Pennsylvania. By 1825, British immigrants began joining them.
Maple was dominated for most of the 19th century by the villages of Sherwood and Teston. Keele Street, which was once a swamp area, forced most travellers to take alternate routes through the community. Once a railway line was built through Maple in the early 1900s, the village began to see larger growth.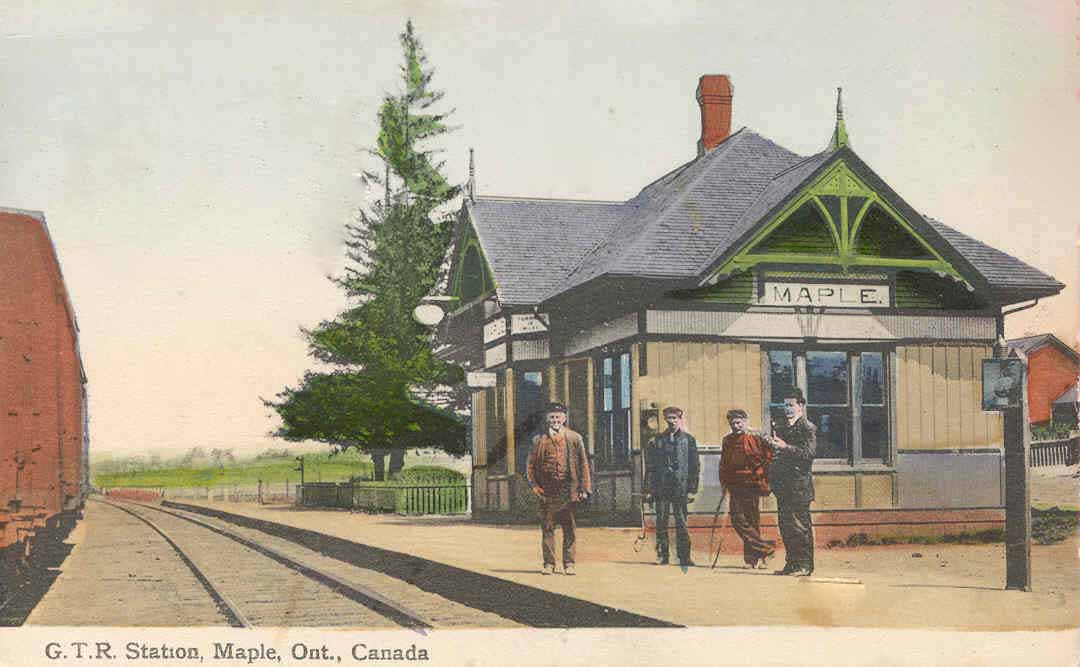 By the late 19th century, local businesses in Maple included a sawmill, rope factory, funeral parlour, hotel, hardware store, pump factory and harness shop. By 1904, there were approximately 100 homes in Maple mostly occupied by retired farmers who owned businesses in the community. In 1907 the Sterling Bank was established, catering to the needs of the community. In 1928, Maple became a self-regulating body with a population of 2,000.
The first church in Maple was St. Andrew's Presbyterian Church, established in 1832. The church was designated under the Ontario Heritage Act in 1979. Methodist meetings were held in Maple from 1833, however, a physical church was not built until 1870. The church is now known as the Maple United Church. A third church, St. Stephen's Anglican Church, was built in 1835. The church building was designated under the Ontario Heritage Act in 1985.
Maple Airport
The land southeast of Major Mackenzie Drive and Jane Street was once home to the Maple Airport. From 1955 to 1987, this small airfield consisted of two runways shaped in an "X" pattern and was the third busiest private civilian and commercial airport at the time in Canada. Increased urbanization and development in Maple led to its closure in 1987. The area is now occupied by Maple Creek Public School.