Vaughan citizens have identified speeding as one of the City's key traffic issues. At the Oct. 20, 2021 Council meeting, Council approved a program to create a new city-wide lawn-sign campaign encouraging the public to slow down while driving on City roads.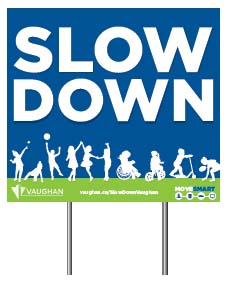 Put up a lawn sign
Vaughan residents can post a #SlowDownVaughan sign on their lawn, in their windows or on their social media profiles to encourage the public to slow down while driving in their neighbourhoods.
Lawn signs are available for curbside pickup at community centres (excluding Garnet A. Williams Community Centre) and the three Vaughan Public Libraries Resource Libraries – Bathurst Clark, Civic Centre and Pierre Berton. Citizens can also download print-at-home window signs (PDF) or social media graphic. Signs are produced by the City and are free to Vaughan residents.
The safety of all road users is a priority. You can help remind the public to slow down and to be aware of their speeds in neighbourhoods by displaying "Slow Down" lawn signs on your property.
#SlowDownVaughan sign usage
By accepting a "Slow Down" sign from the City of Vaughan, you hereby agree to place and use the said sign in accordance with the following conditions:
Only one sign is allowed and it shall be placed in the front of your property;
No sign shall be placed within 60 centimetres (two feet) from the edge of the curb or roadway;
No sign shall be placed within three metres (10 feet) of a fire hydrant or transformer box;
No sign may obstruct the roadway, median, traffic island, sidewalk, bicycle path or multi-use trail;
Signs must be maintained and shall be removed or replaced if any part of the sign has been altered or defaced, or if it becomes damaged, bent, or otherwise cannot be secured to the ground;
Only signs issued by the City are permitted.