Early settlers did not have the same variety of goods to buy as today, when a person can travel to the local store and buy a variety of items from all over the world. In the early 18th and 19th centuries, people had to make the majority of items they used and consumed.
This is why mills in pioneer times were necessary for local settlers to survive. Sawmills would cut lumber to build houses and barns. Grist or flour mills would grind wheat to make bread and other food to eat. A distillery could also be added near a gristmill where grains such as rye could be used to make rye whiskey. Later, more elaborate carding and textile mills were introduced to prepare and weave wool into materials.
Mills used water power and later steam power to operate, making it necessary for them to be situated near river systems. For this reason, small communities were established around river systems. In Vaughan, mills became the centre for development and growth. Similarly, in times of economic difficulty, they were the first to be affected and the end of a mill could mean the end of a community.
The Humber River runs through Vaughan on the west side of the city and the Don River system runs along the east side. These river systems were a main factor in the settlement of pioneers in Vaughan. Mills would attract coopers (barrel makers), tanners (harness and leather goods craftsmen), shoemakers, blacksmiths, a general store and more. Together, these settlers became necessary components of the community.
The first mill in Vaughan was built in 1801 on the east side of Vaughan, near Yonge Street along the Don River system. The saw and gristmill operation attracted settlers to the area that would later be called the community of Thornhill. By 1680, there were more than 20 mills in Vaughan Township. Communities within it included: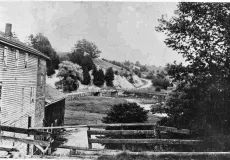 Pine Grove and Hayhoe Mill
Pine Grove was first settled in 1828 when John Smith established a gristmill and sawmill on the Humber River. John Gamble, who added a woolen mill and distillery to the property, purchased it in 1840. According to a map dated back to 1843, Gamble's mills were identified as "Vaughanville." The Toronto firm of Gooderham and Worts acquired the mill site in 1860. The flour mill is still in operation today under the direction of the Hayhoe Brothers. Some remains of the former hamlet exist along Islington Avenue and Pine Grove Road.
Pine Grove and Hayhoe Mill (to the left), 1915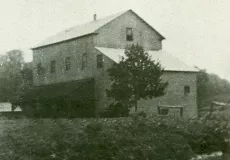 Elder's Mills (Vaughan Mills)
A small mining community was established on the main branch of the Humber River where it crossed Rutherford Road near Highway 27 in the 1850s. James Gibb Thomson, a Scottish carpenter, built three mills:
carding mill (where wool was combed prior to spinning)
gristmill
sawmill
The Elder brothers acquired the site in 1869 and their children ran the milling operation until 1919. Meanwhile, Thomson moved to Vaughan Mills, less than two kilometres downstream, where he constructed a mill on a site previously developed by John Nicholas Kline, a founder of Kleinburg. The former Vaughan Mills site is located near present-day Vaughan Mills Road and Thomson Creek Boulevard.
Elder's Mills, n.d.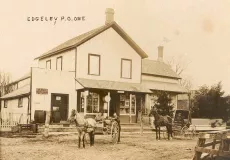 Edgeley and Brownsville
The community of Edgeley developed along Jane Street and Highway 7. Black Creek, a tributary of the Humber River, provided water and power for the German settlers in the area.
In 1808, John Schmidt (Smith) established a sawmill on Black Creek near Steeles Avenue. His Edgeley mill, and another mill located on the property of his neighbour, Richard Brown, remained in operation until the 1860s.
Later, other mills were developed in the community to produce cider and shingles. Today, what remains of the former community of Edgeley can be found at Black Creek Pioneer Village, as many buildings were relocated and restored by the Toronto and Region Conservation Authority (administrators of Pioneer Village).
Edgeley Post Office, ca. 1900