The lands upon which the City of Vaughan is situated have a rich and varied history. The territory was home to many First Nations, which each had unique histories, traditions, and customs.
Located in the Territory and Treaty 13 lands of the Mississaugas of the Credit First Nation, the City of Vaughan rests upon the traditional territory of the Huron-Wendat and the Haudenosaunee people.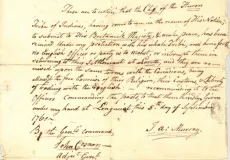 The Huron-Wendat Nation
This historic narrative was kindly provided by a representative of the Huron-Wendat Nation.

The Wendat are ancient people who are part of a great Iroquoian civilization. The Wendat people were traditionally farmers and fishermen-hunter-gatherers. They were also the masters of trade and diplomacy, representing several thousand individuals. They lived in a territory stretching from the Gaspé Peninsula in the Gulf of Saint Lawrence and up along the Saint Lawrence Valley, on both sides of the Saint Lawrence River, all the way to the Great Lakes. According to Wendat traditions and customs, the Wendat people are intimately linked to the Saint Lawrence River and its estuary, the main route of its activities and way of life. The Wendat formed alliances and traded goods with other First Nations among the networks that stretched across the continent.

Huronia, which includes Wendake South, represents a part of the ancestral territory of the Huron-Wendat Nation in Ontario. The ancestral territory extends from Lake Nipissing in the North to Lake Ontario in the South and Île Perrot in the East to around Owen Sound in the West. The territory is marked by many archaeological sites demonstrating the Huron-Wendat Nation's presence in these areas. The archaeological sites are invaluable heritage sites for the Huron-Wendat Nation and represent significant archaeological heritage related to a First Nation in Canada.

Huron-Wendat Nation is one of the oldest First Nation communities in Canada, located on the outskirts of Quebec City (20 km north of the city) on the banks of the Saint-Charles River. Today, the population of the Huron-Wendat Nation is composed of more than 4000 members distributed on-reserve and off-reserve. The Huron-Wendat Nation band council or conseil de la Nation huronne-wendat (CNHW) is headquartered in Wendake.

There is only one Huron-Wendat community, whose ancestral territory is called the Nionwentsïo, which translates to "our beautiful land" in the Wendat language.