Christmas Tree Collection
Real Christmas trees will be collected curbside on your regularly scheduled waste collection day.
Annual Collection
The City of Vaughan has specific Christmas tree collection days that are marked on the annual collection schedule. 2022 dates start the week of Jan. 4 and Jan. 11. Christmas trees are collected in separate trucks so that they can be processed and turned into nutrient-rich compost. Artificial trees are collected as garbage, and must be bagged.
Please note: Winter weather and changing weather conditions may delay pick-up.
Tips for collection
For the safety of the City's Waste Collectors, follow these tips to ensure a quick and efficient pick-up.
Place tree(s) at the curb no later than 7 a.m. All waste, including Christmas trees, should be set out on the right side of the driveway (when facing the home) approximately one metre (three feet) from the curb to avoid snowplows and vehicles.
Do not place your real Christmas tree in a tree bag or plastic bag as it will not be collected.
Remove all decorations (including tinsel and ornaments) and stands prior to collection.
Do not place Christmas Trees on top of, inside or behind a snowbank. If it is not easily accessible for collection staff to retrieve, it will not be collected.
Trees must be less than 2 metres (7 feet) in height; cut in two if tree exceeds this height
Image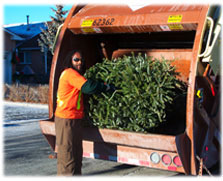 Missed Christmas Tree Collection
If a Christmas Tree collection was missed, trees can be taken to York Region's Compost Facility (McCleary Court Community Environmental Centre - fees will apply) or wait until the start of the City's spring leaf and yard waste collection program.