Background Image

Image

Sports and Games Room

Play when it works for your schedule!
Recreational Sports

Badminton, Ball Hockey, Basketball, Volleyball, Ping Pong & Pickleball
This is a dedicated time for unstructured scrimmage play against different skill levels. Teams will be formed on-site with the help of staff. Racket sport players have the opportunity to challenge new opponents of different skill levels or play against one partner.

Family Basketball at select gyms
Bring your A-game! Family basketball is an unstructured, supervised, dedicated time for families to play ball! A family group has a maximum of 6 people, with a minimum of one adult 18 years or older, which is required to remain on site. Note: Bookings secure one hoop per family per time block. Basketballs will be provided.
Bocce
It's time to throw it down on the court with a game of indoor lawn bowling! Annual bocce memberships are available at Chancellor, Dufferin Clark and Father E. Bulfon community centres.

Family Bowling at Maple Community Centre
Let the good times roll at our newly renovated 4 lane, 5-pin bowling alley. Family bowling is a dedicated time for a minimum of one adult 18 years or older, with a maximum of six bowlers total. Note: Bookings secure one lane per family per time block. Participants must wear shoes with non-marking soles.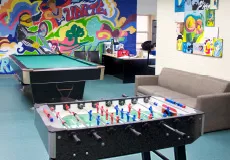 Play when it's convenient for you!
Unstructured time to play games from billiards, foosball, air hockey, to Xbox, Wii, TVs & music—there's something fun for everyone! Or bring your A-game to the table and showcase your racquet handling skills in a ping pong game. Note: amenities may differ at each location.
Recreational sports for adults ages 18+
Game rooms & recreational basketball for youth ages 10-17
Click here for community centre locations and amenities.
View schedules at vaughan.perfectmind.com. We recommend using Google Chrome for best results.
Pre-registration and pre-payment is available for your convenience. Limited spots will be available for walk-ins one hour prior to the start of a recreational activity. Vaughan community centres are cashless; debit, credit or cheque are the only acceptable forms of payment.
To cancel your drop-in reservation online, view the Schedules section of your client profile. Simply switch from 'Calendar View' to 'List View' and then select 'Actions' to begin. A full credit/refund will be issued without penalty.
Is your preferred time block full? Add yourself to the waitlist. If a spot becomes available you will receive an email notification with the option to accept and register or decline the spot, directly from your online account. If your spot has not been accepted within 24 hours of receiving the email, it will be made available to the next person on the waitlist. Please ensure a current email address is associated to all participant profiles.

Watch this video demonstration on how to register for a drop-in program or how to purchase a Vaughan recreation membership online. For more information on registered programs, refer to our Frequently Asked Questions webpage.

To get the latest updates, follow us on Instagram and Facebook. If you require assistance registering, call Service Vaughan at 905.832.2281 or email rec@vaughan.ca.
Answer

All fees listed apply to Vaughan residents only. A non-resident surcharge of 10% may be applicable. HST included in single visit fees, where applicable. HST will be charged at the point of sale for multiple visit passes. Fees are for visits within the set time frame and are subject to change. No refunds or credits on 10 visit passes.

Multi-pass visits are accepted at any City of Vaughan community centre.

| CHILD/YOUTH (4-17 YEARS) | FEE |
| --- | --- |
| Single visit | $5.50 |
| Annual membership | $16 |

| ADULT (18 YEARS+) | FEE |
| --- | --- |
| Single visit | $6.75 |
| Pass - 10 visit | $49.60 |

| OLDER ADULT (65 YEARS+) | FEE |
| --- | --- |
| Single visit | $4 |
| Pass - 10 visit | $30 |

Family Basketball at select gyms

| TYPE | FEE |
| --- | --- |
| Family (max. 6 per group) | $17.50 |

Bocce Membership

| ADULT (18 YEARS+) | FEE |
| --- | --- |
| Resident - 1 year | $98.05 |
| Non-resident - 1 year | $120.30 |

| OLDER ADULT (65 YEARS+) | FEE |
| --- | --- |
| Resident - 1 year | $19.40 |
| Non-resident - 1 year | $103.45 |

Bowling Alley at Maple Community Centre

| TYPE | FEE |
| --- | --- |
| Family (max. 6 per group) | $29.75 |