Vaughan Yonge Steeles Centre Working Group
Vaughan Yonge Steeles Centre Working Group
On Dec. 10, 2013, Councillor Alan Shefman presented a Members Resolution (PDF) to Vaughan Council, reaffirming Council's strong support for the subway extension. The Members Resolution was adopted without amendment. From this, a working group was created. Led by Councillor Shefman, the City's Vaughan Yonge Steeles Centre Working Group meets frequently to develop strategies to continue creating a bright, vibrant, accessible and functional area for citizens to work, live, play and retire.
Members of the public, including ratepayers groups, the business community, developers and representatives from neighbouring municipalities join Vaughan staff to discuss important matters related to the project, share ideas and collaborate on ways to enhance and enrich the Vaughan community going forward.
The Yonge North Subway Extension (YNSE) is happening!
The YNSE extends the TTC's Line 1 service north through the Yonge-Steeles corridor from Finch Station to Markham, Richmond Hill and Vaughan. This inter-regional project will transform the way people travel to and through the Greater Toronto Area (GTA) with approximately eight kilometres of track spanning four additional subway stations.
When complete, the YNSE will reduce congestion on GTA roads and provide faster, safer, more efficient and environmentally sustainable travel options for anyone who lives or commutes between York Region and downtown Toronto. The new subway stations will also provide convenient access for commuters to the Richmond Hill GO train and Highway 407 GO bus service and local bus routes along the extension's route.
In April 2019, the provincial government committed nearly $17 billion for the $28.5-billion subway program and called upon the federal government to contribute to the outstanding 40 per cent of funding. On Tuesday, May 11, 2021, the federal government announced an unprecedented funding commitment of $10.7 billion, the largest federal investment in transit infrastructure in Canadian history, to support the delivery of Ontario's four priority subway projects: the all-new Ontario Line; a three-stop Scarborough Subway Extension; the Yonge North Subway Extension; and the Eglinton Crosstown West Subway Extension.
The YNSE project is targeted for completion between 2029-2030.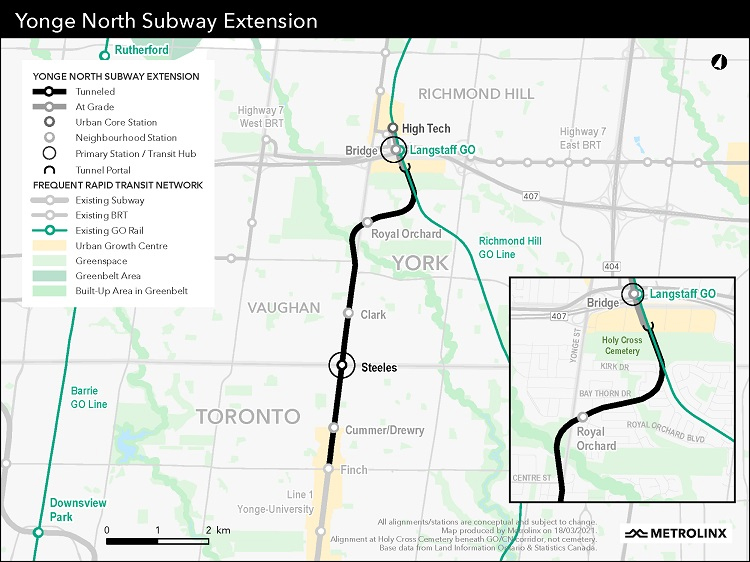 Image from Metrolinx.com