Coyotes in the city
Coyote sightings in cities and rural areas are common and should not be cause for alarm. The City understands that their presence can become a challenge in residential areas, and they can also be intimidating to some people. Coyotes are naturally wary of humans, but food conditioning (example: associating food supply with humans) will increase their presence around people or homes.
Coyote Response and Coexistence Strategy
Image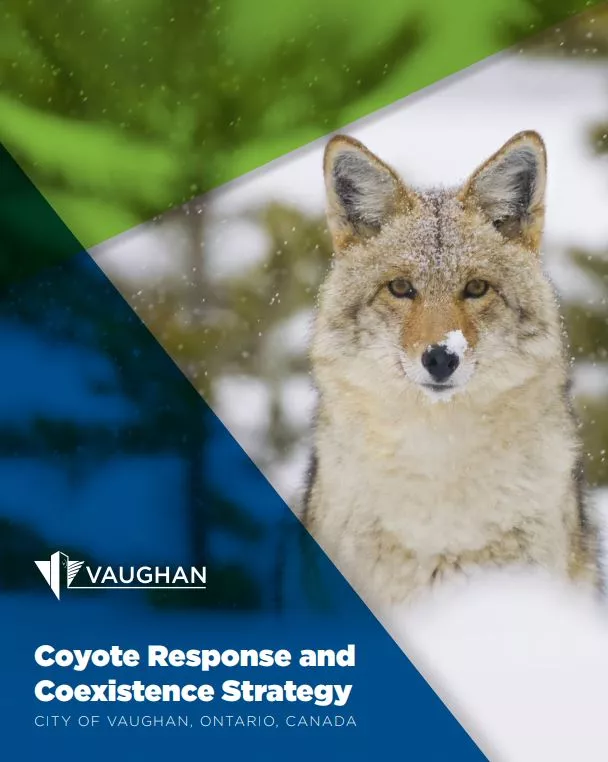 The City has created a Coyote Response and Coexistence Strategy (PDF). The goal of this strategy is to provide a program for reducing human-coyote conflicts while prioritizing human safety. The actions outlined in the strategy are designed to increase citizens' knowledge and understanding of how coyotes behave and make clear how such behaviour can be managed to reduce or eliminate conflicts with coyotes.
What steps is the City taking to manage coyotes in Vaughan?
A variety of measures are being taken in areas where coyotes have been reported, including:
Attempting to limit sources of food – generally garbage in public spaces – that attract coyotes by working with stakeholders to ensure trash receptacles are cleared on a more frequent basis. The City is also asking residents to only put their waste out on their collection day, rather than leaving it on the street overnight, and to collect and properly store receptacles and any uncollected garbage on the same day.
Posting signs in affected areas urging people not to feed wildlife – this is prohibited in the City of Vaughan – and to raise general coyote awareness.
Proactively patrolling streets and parks in affected areas to inform residents about coyote behaviours, how best to avoid interactions with coyotes, and to respond to answer any questions.
Conducting a review of affected areas to identify inviting habitats for coyotes that may be contributing to their presence, not limited to property standards violations, uncovered garbage/compost, inappropriate food sources, littering in parks, long grass and unsupervised pets – all of which attract coyotes. The City's By-law and Compliance, Licensing and Permit Services Enforcement team is strictly enforcing all by-laws to ensure properties are maintained in a manner that is less inviting to wildlife.
Collaborating with Coyote Watch Canada – experts in this field – to assess and monitor affected areas with Vaughan Animal Services to advance the City's coyote strategy.
The City of Vaughan is doing everything possible in line with the best industry standards and science-based information and resources, as supported by the Ministry of Natural Resources and Forestry.
Who to contact
For more information about coyotes, contact Vaughan Animal Services at 905-832-2281 or animal.services@vaughan.ca.
Vaughan Animal Services officers are available 24 hours a day, seven days a week to respond to calls about sick or injured wildlife. To file a report, contact Service Vaughan at 905-832-2281 or service@vaughan.ca.
Attend the wildlife education drop-in hours at Dufferin Clark Community Centre

Tuesdays: 10 a.m. to 11 a.m.
Thursdays: 4 p.m. to 5 p.m.

If a coyote poses an immediate threat or danger to public safety, call 911 immediately.
Important reminders
Residents have a big role to play to help minimize negative interactions with coyotes:
Never feed or approach a coyote or any wild animal.

Feeding of wildlife is the primary cause of animal/human conflict. Directly or unintentionally feeding a wild animal will increase their tolerance to people and pets as they begin to associate people with food. Reconsider bird feeders as they attract small mammals, which encourage larger wild animals to visit your yard.
Not only can feeding wildlife have unintended consequences, it is illegal and subject to a fine of $500 under the City's Animal Control By-law 066-2020 (PDF).
Going near dens is not safe for you or the animals living in them. It is unlawful to disturb or cause distress to wildlife and is subject to a $900 fine.

Do not feed domestic pets outside.
Supervise pets – they should not be left unattended in the yard and dogs must be on a leash when on a walk. Cats are safest when kept indoors.
Remove food sources such as household garbage/compost and bird feeders that attract rodents and vermin – which coyotes search for to eat. Keep outdoor barbeques clean.
Place waste out only on the morning of collection day (waste must be out by 7 a.m.).
Properly dispose of pet waste.
Remember, if you encounter a coyote, keep your distance and keep pets on a leash. If the coyote approaches you directly:
Stop. Pick up small children and pets
Shout loudly, wave your arms high in the air or snap plastic bags
Back away slowly while remaining calm
Never run or turn your back on a coyote
Can coyotes be trapped and relocated?
Trapping and relocating is ineffective, as the animals can only be moved to one kilometre from where they are captured. Coyotes will return to their home territory in a short period of time if moved and can travel long distances in a few days. Additionally, the removal of coyotes often has the opposite of the intended effect and can result in an increase in local coyote populations as new animals move into vacated territory.
Trapping is a safety hazard for the community, as it poses a danger for household pets, other wildlife and people.
Read frequently asked questions from Coyote Watch Canada.
Contact Information
By-law and Compliance, Licensing and Permit Services,
Animal Services
Phone: 905-832-2281
Toll-free: 1-855-227-7297 (PAWS)
Email: animal.services@vaughan.ca
Location:
Department
Vaughan City Hall, Level 100
2141 Major Mackenzie Dr.
Vaughan, ON  L6A 1T1
Shelter
70 Tigi Crt., Unit 47
Vaughan, ON  L4K 5E4