​The community of Kleinburg ​is comprised of a narrow section of hilly landscape situated between two branches of the Humber River. The historic village is bounded by Highway 27 on the west and Stegman's Mill Road on the east.
Early settlement
Kleinburg developed around numerous mills like many other riverside villages. In 1848, John Nicholas Kline bought 33 hectares (83 acres) of Lot 24 in Concession 8 west of Islington Avenue. On this land, Kline built a sawmill and gristmill.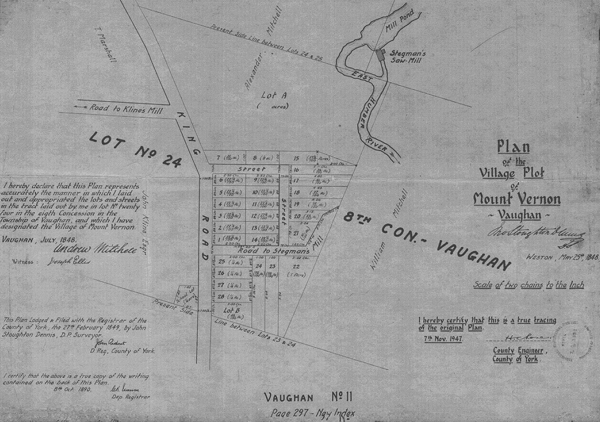 This land was then divided into eight smaller individual lots, encouraging the establishment of the village. The Kline Mills not only served the local farming community but also became the backbone of a growing commercial centre.
It is assumed Kleinburg was named after Kline, however, its present spelling was derived from a combination of two German words: Klein, meaning "little or small" and berg, meaning "mountain." The name "small mountain" perfectly describes the topography and environmental setting of Kleinburg.
Kline family
Klein was an early entrepreneur who contributed his time to the betterment of the local community. In the 1850 directory, he is noted as being a Justice of the Peace and was a member of the Home District (pre-Vaughan Township) Council in the 1840s. Klein operated his saw and gristmill business with his son John Kline Jr., and the family remained in Kleinburg until 1851. Although their stay was brief, their contribution to the village was prominent.
Howland family
In 1852, William-Pearce, Fred and Henry Stark Howland bought John Kline's property. The Howland brothers were one of Ontario's most successful families in both private business and public politics. Henry was the first postmaster of Kleinburg and Reeve (Mayor) of Vaughan Township from 1859 to 1860.
These were the largest mills located between Toronto and Barrie. The mills built by Kline and owned by the Howland family, however, were not the only mills responsible for Kleinburg's growth.
A second sawmill was established on the east side of the Humber River. George Stegman was the owner of this second sawmill located off of what is today Stegman's Mill Road.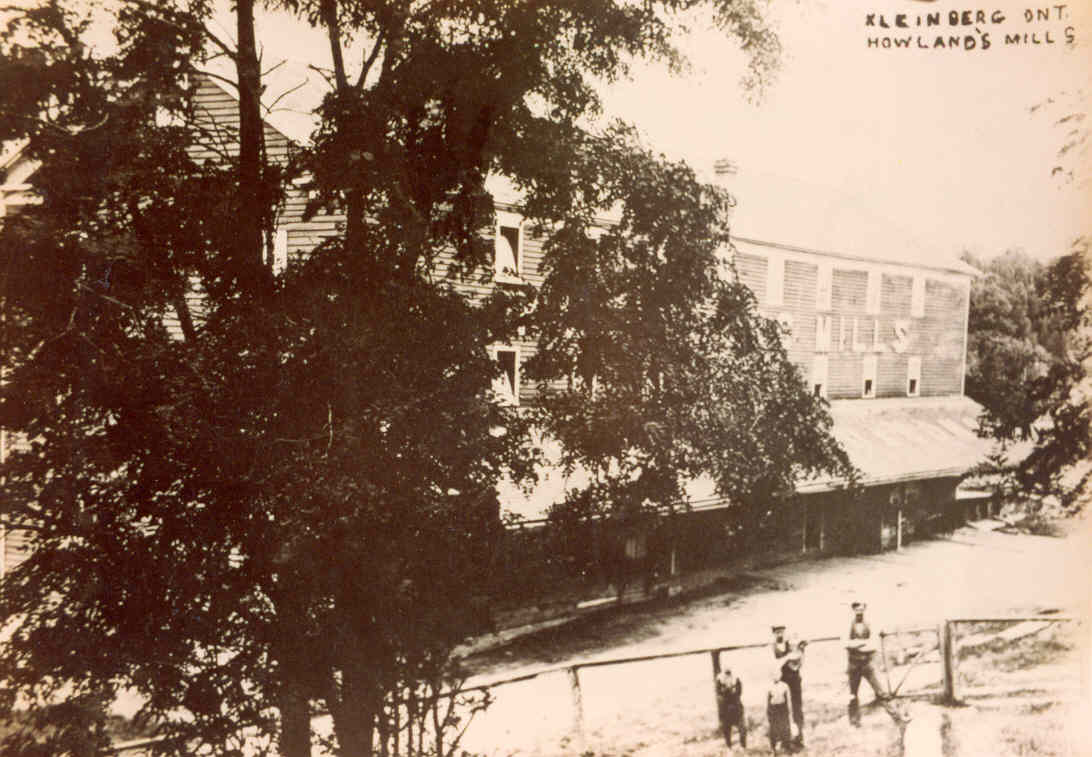 Community growth
By 1860, the community that grew from the establishment of these mills included a boot and shoemaker, carriage maker, tanner, tailor, doctor, a church, school, hotel and more. By 1870, a butcher, cabinet maker, chemist and insurance agent had joined the community. Kleinburg also became a popular resting stop for farmers or merchants on their way to and from Toronto.
Binder Twine Festival
An annual Kleinburg highlight is the Binder Twine Festival which takes place every September. It began in the late 1800s, when Charles Shaw Jr. distributed to local farmers their yearly supply binder twine to tie together bundles of wheat. Legend states Shaw gave his customers a dinner in appreciation of their business. This dinner eventually became a large community event with games, refreshments and entertainment that is still celebrated to this day.
McMichael Canadian Art Collection
Directly south of the village core is the McMichael Canadian Art Collection. This log home situated on a 16-hectare (40-acre) lot was donated to the Province of Ontario by Robert and Signe McMichael. Since its opening in 1966, the art gallery holds collections by the Group of Seven and artwork from numerous Aboriginal artists. The property also has a small cemetery where the original members of the Group of Seven are buried.