Spills and Hazardous Material
Who is responsible for a spill?
The City's Wastewater unit and Roads division are responsible for the clean up of hazardous spills on public property, roadways and into sewer systems. A quick response to these incidents is vital to prevent these contaminants from entering the sewer systems, water courses and lakes, and damaging our environment. The Ministry of the Environment, Conservation and Parks', Spills Action Centre is notified of these incidents when they occur.
What actions to take when witnessing a spill
If you see paint, oil or other similar material onto public property, the roadway or flowing into catch basins, sewer systems and water courses, please contact Access Vaughan at 905-832-2281 to report the incident.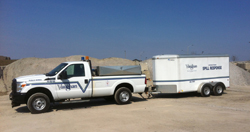 Additional Resources
Ministry of the Environment, Conservation and Parks