Collection
Blue box recycling is collected once a week on your scheduled collection day. Blue bin recycling should be placed at the curb no earlier than 6 p.m. the night before and no later than 7 a.m. on the day of collection. The time of collection can change without notice.
Place collectible waste materials at the curb for collection (on or beside the driveway). Do not place waste on the road. Keep waste materials separate from your neighbours. Ensure waste is properly set out in the winter months. Do not overfill the contents of the blue box. Purchase additional boxes or a larger blue bin if needed.
Cardboard must be broken down, flattened, bundled with string, and placed beside the blue box.
On windy days, items in the blue box can be blown from the curbside. Here are a few tips to secure items and prevent litter:
Leave 7.5 centimetres or 3 inches at the top of your blue box.
Do not overfill the blue box. Purchase additional boxes if needed.
Flatten and cut down cardboard and bundle securely.
Acceptable Bins
Blue boxes purchased from the City of Vaughan
Similar sized blue boxes purchased at retail stores, 53 to 121 litres (14-32 gallons), with no attached lids or wheels. The total weight of any one container and contents must not exceed 20.5 kilograms (45 pounds).
New! Large 121 litre (32 gallon) blue bins are now available for sale through Service Vaughan.
Image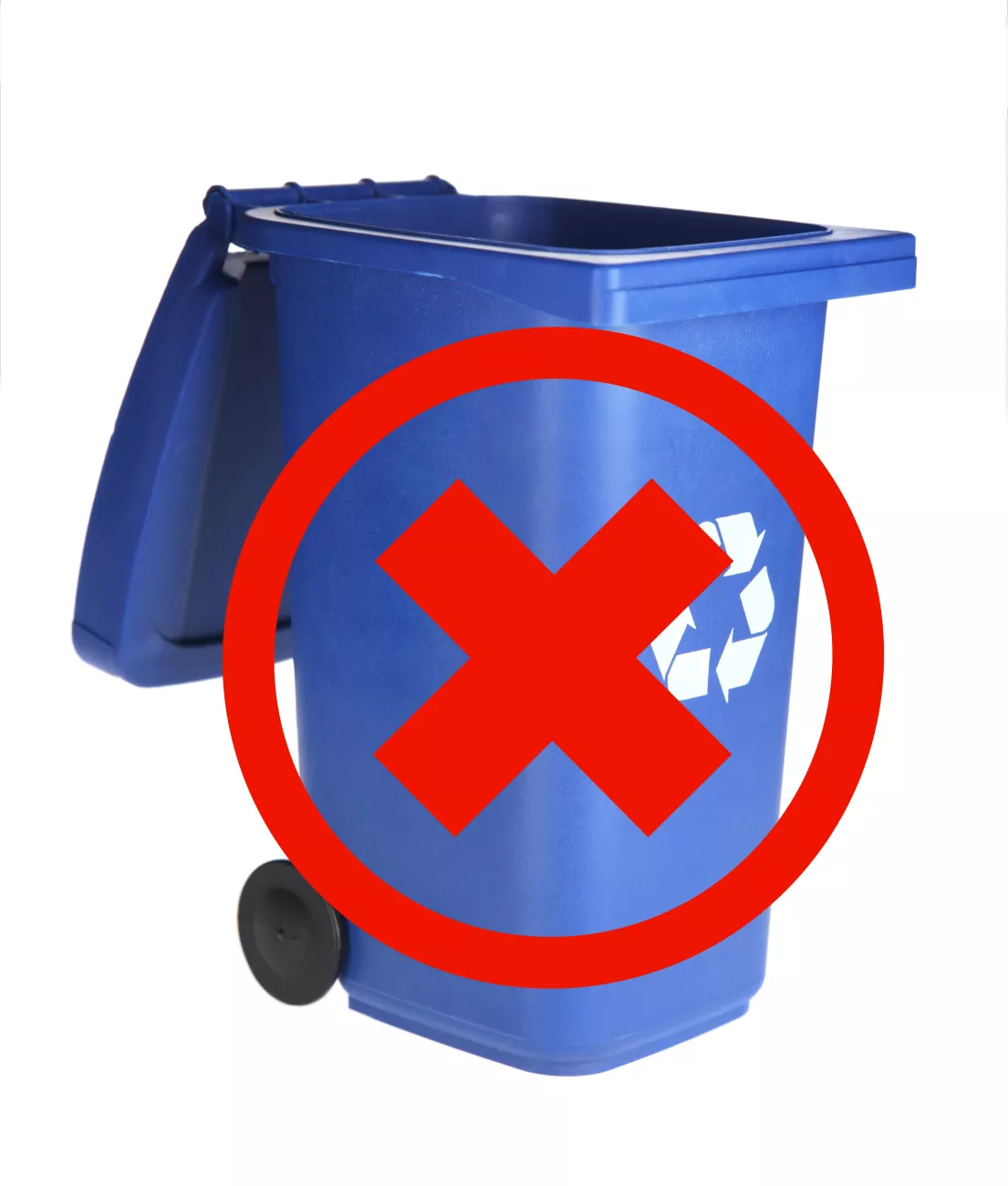 Unacceptable containers
Cardboard boxes
Plastic bags (any colour) and garbage containers
Containers with attached or detachable lids
Wheeled containers and oversized containers
What goes in the recycling bin?
Image
Plastic bottles and food containers (empty and rinsed)
Antifreeze, windshield washer fluid, and other vehicle care containers
Household cleaning bottles including detergent, bleach, and cleaner bottles under 15 litres
Food tubs and lids including yogurt, ice cream and margarine containers
Water bottles and beverage bottles
Personal care product bottles including shampoo and dish soap bottles
Glass bottles and jars (empty and rinsed)
Pasta sauce, pickle, baby food, and jam jars
Mason jars
Beverage bottles (alcoholic beverage containers can be returned to a Beer Store)
Aluminum and steel (empty and rinsed)
Aerosol cans and paint cans (empty and with lid removed)
Aluminum foil, trays, and pie plates
Pop cans and food and beverage cans and lids
Metal lids
Cartons and boxes
Cardboard (flatten and tie in bundles with string, no larger than 0.6 metres x 0.6 metres x 0.3 metres (2 feet x 2 feet x 1 foot)
Tetra Pak packages
Milk and juice cartons and juice boxes (no straws)
Boxboard including cereal boxes and shoe boxes
Spiral-wound containers such as Pillsbury dough, frozen juice, or Pringles
Toilet paper and paper towel rolls
Egg cartons
Household paper
Office paper
Books (remove hard covers)
Brown paper bags
Newspapers (remove plastic sleeve)
Flyers, magazines, and mail
Learn how to stop receiving admail from your community mailbox.
Blue Box Reminders:
Do not put recycling in bags. No plastic bags are allowed in the Blue Box.
Empty and rinse out all food and beverage containers.
Styrofoam goes in the garbage.
Single-use items such as masks, gloves, coffee cups, coffee pods, and wipes belong in the garbage.
Facial tissues, paper towels, and napkins belong in the green bin.
Not all items are recyclable, even if they have the recycling symbol on it. Download the City's Recycle Coach app or use the online search tool to find out where an item belongs.
---
Frequently asked questions
Has the City of Vaughan explored the idea of lids for blue boxes?
The City of Vaughan is monitoring other communities that are currently exploring lids for blue boxes. The lids presently being tested in other municipalities are heavy, reducing the chance of being blown away, and made from recycled materials. If these product pilots are successful and do not impact collection services, the City will consider endorsing and selling these products.
Why doesn't the City of Vaughan use carts with wheels for waste collection?
Based on resident feedback through a service level review process, the majority of respondents confirmed support for the current manual blue box collection service. They would not support automated cart collection based on cost.
The City of Vaughan does not use carts with wheels for a variety of reasons:

Carts require a significant capital investment and have ongoing maintenance and growth requirements.
The carts program is generally serviced less frequently compared to the City's current schedule, resulting in a service reduction for Vaughan residents.
The recycling carts require an alternative system for material that does not fit into the cart (large cardboard, extra material).
With the cart-based programs, contamination is a large issue. Non-recyclables are put into the recycling carts resulting in issues with collection and sorting.
What is the cost of the larger carts with wheels?
Carts come with substantial financial costs, estimated to be $5 to $8 million for the containers to be provided to citizens – excluding the significant costs for specialized trucks and additional support systems required to maintain, repair and replace carts. A cart-based program must also have an alternative collection method for overflow material that does not fit into the carts.