Background Image

Image

Vaughan Sports Leagues

Adult Volleyball League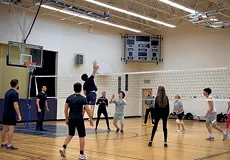 Adult Volleyball League starting September 26
All about the ace! Vaughan Sports Volleyball Leagues provides adult players with recreational/intermediate skill levels and experience, the opportunity to play organized sports right in their community. We offer convenient times, a premium location and competitive prices, plus prebooked courts, pre-scheduled games with a playoff format. Suitable for players who are new to volleyball or play very little volleyball. Whether you sign up as a team and play with existing friends or join as an individual and make new friends, you'll have fun playing your favorite sport!
Rosemount Community Centre, September 26 - December 12 
Vellore Village Community Centre, September 28 - December 14
 
12 week season with tournament
Team fee: $660 per team
*Individual fee: $110
Minimum 6 people, Maximum 8 people in a team, with at least 2 female players (ages 18+)
Team Captain needs to complete the Team Roster Form
Click here to view the Vaughan Sports Volleyball League manual.