The City of Vaughan is responsible for the maintenance and operation of more than 10,500 fire hydrants – which play a critical role in the City's water infrastructure.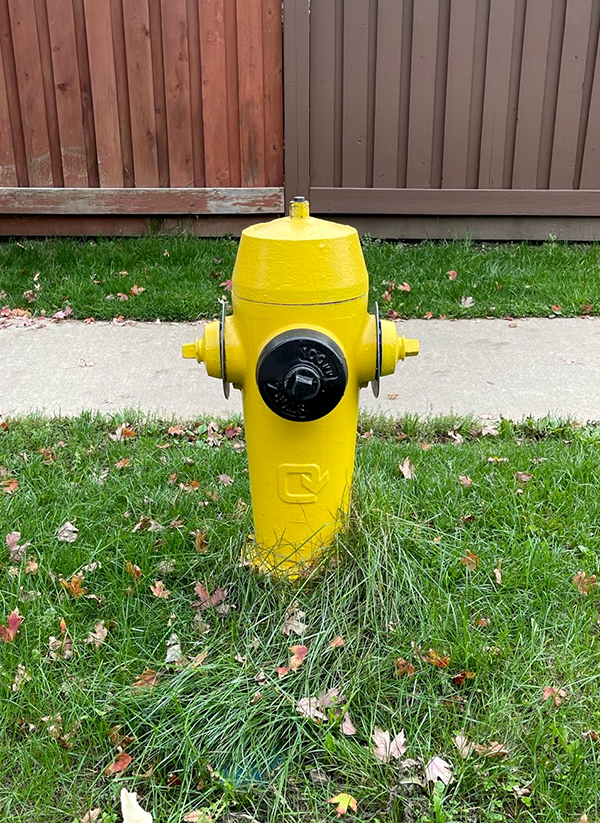 In an emergency, every second matters. Blocked, concealed, or
difficult-to-access fire hydrants can impede emergency fire response. That's why it is the responsibility of citizens who have a fire hydrant on their property or City property adjacent to theirs, to ensure the hydrant is visible and unobstructed at all times according to the City's Water By-Law 106-2022 (PDF). During the winter months, residents are responsible to clear a three foot (one metre) radius of snow and ice around the hydrant, and ensure an accessible path from the street to the hydrant is maintained.
City fire hydrants are painted entirely yellow in colour and repainted about every five years. If a citizen notices a white fire hydrant, that is usually a sign of maintenance, priming the hydrant for a fresh coat of paint. Red hydrants throughout the City indicate a privately owned hydrant.
Hydrants can only be operated by City staff. Any unauthorized use of fire hydrants is considered water theft and may result in by-law enforcement. To report a leak, or illegal connections, reach Service Vaughan at 905-832-2281 or email at service@vaughan.ca.
Smart Hydrants
In 2020, the City of Vaughan installed five Smart Hydrant kits as a pilot project. The devices provide the City with useful insights into the water system, such as drops in pressure, acoustic data, transient data and temperature information. The hydrant device does not impact the operation of the hydrant and can also be transferred from one location to another, running on battery power and transmitting data remotely through the cellular network to a dashboard, tracking all information.
Since hydrants are connected to the City's watermains, the Smart Hydrant's main function is to identify potential leaks within infrastructure and their locations while generating alerts to operations staff for follow up actions in the field. The City's Smart Hydrant pilot project allows for a proactive approach to addressing watermain breaks in areas near the hydrant. These devices have helped determine why citizens may have a drop in water pressure when their home falls within the specific area.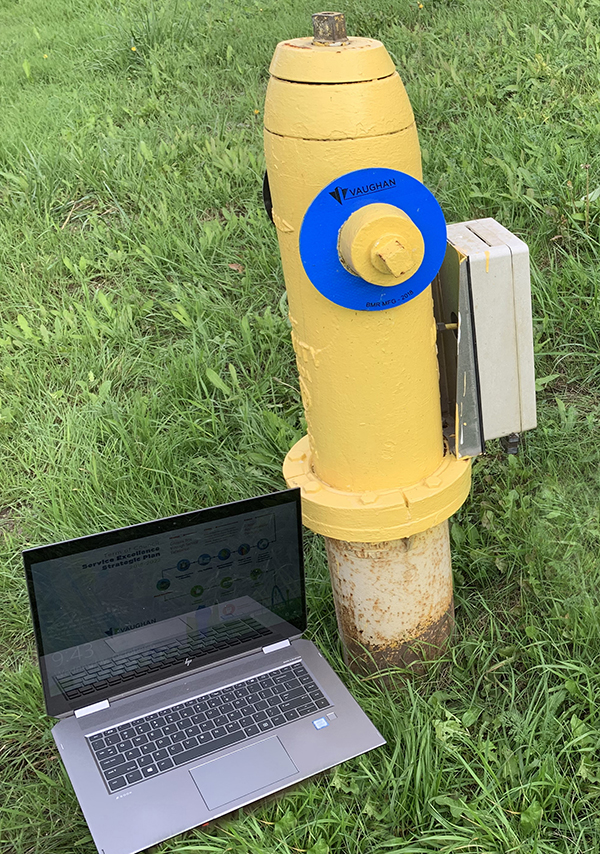 Other benefits include:
Lower operating costs – fewer watermain breaks lead to a reduction in costly emergency repairs.
Less water loss – fewer watermain breaks and a reduction in leaks leads to less water loss.
Improvement in water services – fewer watermain breaks leads to less emergency shutdowns and minimizes interruption to water services.
A watermain break is the most impactful event that disrupts water service because reliable water servicing is crucial to the health, safety and well-being of citizens. Watermain breaks are often reacted to once they become a problem however, the City now has the potential to proactively resolve leaks before they turn into larger visible breaks. That is why the City is working to secure 10 more Smart Hydrant kits to add to its infrastructure.
The City of Vaughan is committed to operational performance and ensuring the best citizen experience as outlined in the Council approved 2018-2022 Term of Council Service Excellence Strategic Plan. Part of these commitments ensures services can be transformed through technology by exploring innovations that foster a culture of continuous improvement and process efficiencies.