Visit North Maple Regional Park
CONSTRUCTION NOTICE: There will be some parks spaces, trail and vehicular access restrictions in effect until summer 2024 while construction is underway. Different areas of the park may be closed to the public with on-site signage and fencing. We please ask that all park visitors exercise caution and respect the construction signage, fencing and barriers, and avoid entering areas under construction. Check back regularly for project updates and more information. 
Getting to North Maple Regional Park 
Located right here in Vaughan, getting to nature, trails and opportunities to get active is easy! 
Drive 
The main entrance to the park can be accessed from Keele Street, between Teston and Kirby Road. Parking is free.  
Take transit 
York Region Transit's 96 – Keele-Yonge local route provides access to the park by bus. The bus stops at: 
Keele Street, north of Teston Road (Stop #6495) 

Keele Street and Peak Point Boulevard (Stop #5203) 
For more information, visit yrt.ca.  
What to do in the park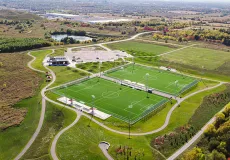 Soccer
Calling all soccer enthusiasts! In 2018, the City opened two FIFA-certified artificial turf fields with built-in spectator seating. 
Interested in booking one or both of the fields? Visit vaughan.ca/FacilityRentals for general information and Rental Fee Schedule (PDF). Facility Rentals and booking details can be viewed on Vaughan's online recreation registration system.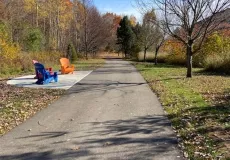 Hiking
Get some fresh air, stretch your legs and enjoy the North Maple Regional Park Nature Walk surrounded by the natural setting of the Oak Ridges Moraine and Don River. There are five kilometres of easy to moderate trails to explore. For more information, you can view the North Maple Regional Park Nature Walk map (PDF).  
Bring fido! Pets are welcome in North Maple Regional Park. That said, we ask all park visitors to be responsible pet owners. All pets must be kept on a leash, and owners must clean up after them as per Animal Control By-law 066-2020 (PDF).  
Wildlife
Did you know Vaughan is home to four of the 10 smallest birds in North America? Bust out your binoculars, find a Muskoka chair and practice your bird calls, as there are many bird species to spot in North Maple Regional Park.  
Remember to avoid sick or dead wild birds or other wildlife, as they may be infected with diseases that can spread to humans and pets. You can report any dead or ill geese to Vaughan Animal Services at 905-832-2281 or animal.services@vaughan.ca and staff will respond. Please do not touch the birds.